About the EC-12 Class
Radio controlled model sailing is a hobby without limits. It includes design and building for the serious hobbyist, cutthroat competition for the adrenaline-addicted, and the pure eternal beauty of a vessel cruising along, powered only by the wind.
Organized model sailboat racing has been documented since the 1800's. But real growth coincided with the development of light, reliable, and inexpensive radio controls. The model skipper can duplicate the tactics and boat handling capabilities of his counterparts in big boats. The laws of scale, however, dictate that things happen more quickly with model boats. A partial day's racing at a local regatta will easily have 10 to 14 starts and many more mark roundings. Interestingly, model yachts race under the same ISAF rules (International Sailing Federation) as big boats do - with a few exceptions. ISAF-RSD covers radio control yachts.
The New Zealand EC-12 Owners Association sails the East Coast 12-Meter yacht. Graceful overhangs with a sweeping sheer hark back to the golden age of yachting. The EC-12 is about 1.5 metres (5 feet) long, displaces approx 11 kilograms (23 pounds), has a 1.8 metre (6 foot) mast, and carries 7,500 square centimetres (1,300 square inches) of sail. The heavy-displacement full-keel hull of the EC-12 differs from most other model yacht classes, which tend towards lighter hulls with exaggerated fin keels and bulbs for ballast. In the 1960's, the famed naval architect Charlie Morgan, designed a 12-meter yacht as a potential defender in the 1964 America's Cup. The full sized boat was never built, but the 9/10 inch to 1-foot scale tank test model survived and was used to make the EC-12.
The EC-12 is a restricted one-design class. Fiberglass hulls are made from an international mould, and must be purchased from the Owners Association. Construction materials and dimensions are also restricted, sail dimensions are controlled, and radio functions are limited to three - rudder, main sheet, and jib twitcher. All other rig tuning controls - boom vang, cunningham, outhauls, stay tension, topping lift, etc. replicate those on full size boats, but must be manually set rather than radio controlled. The result is a class of boats with similar speed potential. As with any good restricted design class, racing success is determined by boat handling abilities.
The Ideal Hobby
Model Yachting is the ideal hobby. Properly cared for, boats last forever. A beginner can be handed a transmitter with complete confidence. It is easy to sail, typically with only a rudder and sail control. Yet the simplicity masks a complexity of skills which can take a lifetime to master. Young and old, beginner to old salt, model yachting has something for everyone. Above all, model yachting is fun. Pure fun. Model yachting is a quiet, photogenic, non-polluting pastime. You will never be thrown off a pond! Instead the person who comes up to you might have some of the same questions you have now, the questions we hope to answer in this website.
Why an EC-12 instead of another class?
Good question. There is no perfect yacht for everyone, but EC-12's push a lot of the right buttons for a lot of people. A number of important characteristics make the EC-12 the model of choice for both sport and racing skipper alike: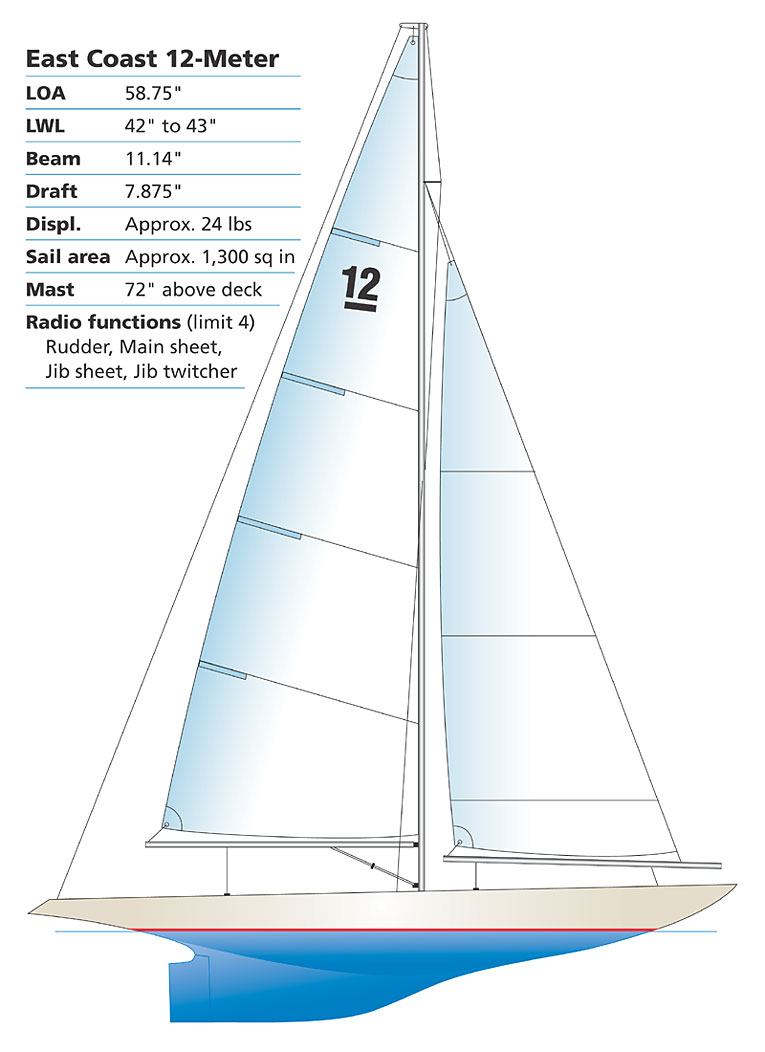 Traditional appearance - We hear all the time what pretty yachts EC-12's are. Sweet proportions. Graceful sheer. Traditional, yachty look. Think of them as functional art.
Appropriate size - We are not the biggest nor the smallest of the radio control yacht classes. The EC-12 is the right size for easy car transport, and is big enough to handle open water with ease, yet the low-drag full keel displacement hull form excels in light air and eliminates weed problems common to fin keel boats. You'll be amazed at the control you can have in tight quarters. The EC-12 is a model yacht, not a toy boat.
Long history with a stable class rule - EC-12's are time tested. Boats built in the 1970's can be updated to sail competitively in the class, proof that the one-design class rule works. A new EC-12 can be a potent performer, and will remain so for a long time.
Best documented model yacht class - The class promotes the free exchange of construction, configuration, and handling technique information. The Class is supported by two major books totaling 380 pages of text, drawings, and photos of EC-12's inside and out. Information is also available on the Internet at sites like www.ec12.org and www.ec12.info. This means that newcomers have immediate access to all the go-fast and latest thinking about the boat.
Excellent after-market support - A new hull can be supplied as a shell, or include additional key components such as deck and ballast. A range of specialty manufacturers produce everything from sails to boat cradles and fittings.
Country-wide sailing - Most EC-12 racing occurs at club level, and you will find fleets across New Zealand racing in small to large fleets.
Premier national class - If you decide that competitive racing is your interest, the EC-12 is what you have been looking for. Effective sailing of this model requires patience, anticipation, and a substantial commitment to doing a good job. Skippers who compete in the class do so because they enjoy the close racing this class has to offer. EC-12 National Championship events rotate through the clubs on a regular schedule, so sooner or later you'll be able to try your hand.
Where can I get one?
The hobby shops in your area are the place to go for building supplies and radios. The hulls have to be obtained through the Owners Association. Used boats are also available from time-to-time, check the listings on this website under For Sale, by asking local club members, or checking websites such as www.trademe.co.nz.
Are there any races I can enter?
Yes. Most of the local clubs have regularly scheduled sailing days throughout the year. Many of the clubs also race other class boats besides the EC-12. You do not need prior experience to enter, but getting to the finish line first will be a challenge!